27-07-2018, 04:10 PM
Jolly Good - United Kingdom


God Save The King


Posts: 137
Joined: Feb 2015
Kinetic Weaponry
myself and others believe that that the damage done by the already existing kinetic types is extremely underwhelming, therefore id like for them to be optimized so that they could do a decent amount of damage or better still a wider variety of kinetic weapons from say battlestar galactica?? for instance maybe some sort of nuke which could work much like the tricobalt.

another which id like to see but im not sure if its possible would be shields that would only be on the ships hull and not a bubble like the traditional shields, perhaps something like the sci-fi shuttle or the plating effect but modified??

these would be great to have implemented if not i understand and thanks for the consideration, and if anyone else has similar ideas or thoughts on this please do share.

Thanks
---
27-07-2018, 07:23 PM
mariofludd


TSCM Member


Posts: 262
Joined: Dec 2013
RE: Kinetic Weaponry
I don't think the hull-tight shield would be possible without causing problems because of the fact you can make ships out of litterally anything, which would probably cause server lag. The only reason the plating effect works is because when something hits a part of a ship and it has plating, the plating effect plays on the prop that was hit, Person would have to do the same with a hull-tight shield which would make the effect only play on one area of a prop that was hit.

I'd like for kinetic weaponry to do more damage aswell, its very underwhelming
---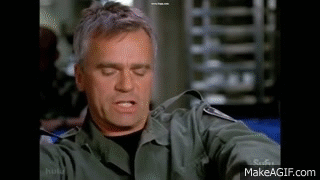 28-07-2018, 06:38 PM
Brent


TSCM Super Member


Posts: 150
Joined: Feb 2014
RE: Kinetic Weaponry
Well this has been discussed so many times... ,

however I still believe that a lot of ships out there would look absolutely fantastic with a kinetic weapon setup.
The sounds and effects of the already existing weapons are great (even though I wish the turret types visual effect would feel a bit more.. heh powerful?).

And I get the fact that Kinetic weapons shouldn't be very effective against bloody advanced Star Trek shields, however other franchises such as Halo work quite well with both things.
So I definitely agree that the balancing should be adjusted.
Currently you are pretty much forced to use energy weapons to some degree to actually have a realistic chance in combat. Thus the kinetic weapons are unfortunately barely used.

I have to admit I'd also like to see things such as Nuclear Warheads, especially with things like the Gigafish already having great effects and sounds which could be used.
So maybe a tricobalt torpedo with different models and a simplified gigafish effect?.
28-07-2018, 07:35 PM
(This post was last modified: 28-07-2018 07:35 PM by McDabression.)
McDabression


TSCM Member


Posts: 2
Joined: Feb 2015
RE: Kinetic Weaponry
Yeah it's a real shame that kinetic weapon damage is so underwhelming. They definitely deserve a rebalance because hardly anyone ever uses them.
In addition I would like to see some variety in kinetic weaponry such as Kinetic Rods, Tank Shells, or Small Nukes.
29-07-2018, 09:47 AM
Person8880
gpj.ecafllorT


Posts: 1,816
Joined: Sep 2013
RE: Kinetic Weaponry
The kinetic type on the ship turret does the highest hull damage out of all of the turret types. Also, the flak type has a huge damage radius, meaning it often doesn't need to predict the motion of shuttles or other moving targets to be able to hit them.

As for the missile launchers, they use much less energy than the torpedo launcher does and so do less (but not insignificant) damage as a result.

Kinetic weapons aren't really going to be good against shields on their own, but they are very good against hull. I'm not sure how exactly they could be rebalanced without them becoming a reskin of the energy weapons.

At the very least, I'll try to make the kinetic and flak projectiles have a bit more presence visually.
29-07-2018, 12:27 PM
Brent


TSCM Super Member


Posts: 150
Joined: Feb 2014
RE: Kinetic Weaponry
I've just recently talked to Jolly and concluded that the kinetic turret type does indeed great hull damage. And that goes for pretty much all the other kinetic weapons aswell.
So their damage is definitely not the issue here, what might be is their poor effectiveness against shields.

They already have a slightly better shield bleedthrough than some other weapons, especially the missiles as far as I'm aware. However e.g. the transphasic torpedo type is still more effective. So maybe all that would need to be done is to increase their shield bleedthrough to a similar level.
Though it might take a lot of tweaking and trial and error to get the balancing just right, this might be the best option. Just slightly increase their bleedthrough so a kinetic only setup would be able to eat away the hull in a similar time than it would take the traditional way.

Also, I could provide some high quality and clean BSG sounds like howling cylon missiles which might go great with the SAM missiles. Or maybe multiple sound effects of Galacticas heavy main artillery firing and reloading.
After all BSG is like the prime example of kinetic weaponry in science fiction heh.
30-07-2018, 08:56 PM
EV-054851-17
I will go down with Destiny.


Posts: 252
Joined: Mar 2015
RE: Kinetic Weaponry
(27-07-2018 04:10 PM)

Jolly Good - United Kingdom Wrote: another which id like to see but im not sure if its possible would be shields that would only be on the ships hull and not a bubble like the traditional shields, perhaps something like the sci-fi shuttle or the plating effect but modified??
What about this?
---
'You are always moving, even when your standing still.' Me - 2016
01-08-2018, 05:19 AM
T-20
GMod Admin

Posts: 728
Joined: Oct 2013
RE: Kinetic Weaponry
(30-07-2018 08:56 PM)

тѕсм.Ethan Vondwarf Wrote: What about this?
I agree it might look cool but you also have to consider with having both the shield and plating effect visually similar some people might get confused from a distance if they're unable to get readouts on your shields/plating.
---
Steam Profile
My Discord Server
Need help with E2 or SF? , just ask me and i'll try to help.
03-12-2018, 11:47 AM
Jolly Good - United Kingdom


God Save The King


Posts: 137
Joined: Feb 2015
RE: Kinetic Weaponry
BUFF BUFF BUFF BUFF
---
03-12-2018, 07:50 PM
Kosmos
TSCM Orwell

Posts: 172
Joined: Dec 2013
RE: Kinetic Weaponry
CLOSE CLOSE CLOSE CLOSE
User(s) browsing this thread: 1 Guest(s)